Stryvo is a Norwegian total player within design, manufacturing, testing, installation and documentation related to metal processing. We deliver products, structures and process systems to several industries; including oil and gas, maritime, renewable energy and building and constructions. Stryvo consists of three companies, Stryvo AS, Stryvo Bismo AS and Stryvo AS, all with modern machinery and highly qualified workers.
Stryvo has high expertise in advanced welding, machining and testing and are highly qualified against all relevant standards.
Stryvo will through product quality and accomplishments always work hard for creating added values for our customers and ourselves.
Members of the board
The Stryvo Group's Board of Directors consists of 3 members.
The members of the Board are Jostein Bøe and Linda Merete Bøe.
Chairman of the Board: Arild Bødal
Companies in the Group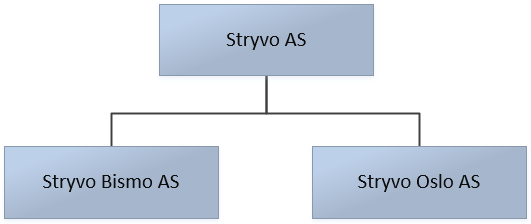 History
Stryvo was established in 1947 as Stryn Vognfabrikk
Stryvo Bismo established in 2013
Stryvo Bismo have their expertise from earlier Bismo Industries, established in 1976. They have good reputation for high quality in engineering and supply of process equipment, water purification systems for offshore and the energy sector.
Brødr. Skaug Mekanisk Verksted AS acquired in 2014 and named Styvo Oslo AS in 2015
Stryvo Oslo specializes in turning and machining alloy steels such as titanium, inconel and super duplex.
| | |
| --- | --- |
| Turnover | 123 M NOK |
| Employees | 70 |
| Buildings | 7 500 sqm |
| Sites | 32 000 sqm |
Vision Statement
"Trusted partner for future solutions"
Mission Statement / Business Ethics
Our Mission Statement includes details of our core business principles for success and is therefore internally facing i.e. what do we want to achieve and how we will do it on a daily basis:
Stryvo to be the supplier and brand of choice of our customers, by the professional community, in each of our markets segments. Our market position is achieved through delivery of a professional level of services adapted to the market, within our core competencies, with respect to our clients and to common business relationship.
Service is delivered in a professional manner, with integrity by well-trained, supervised and highly motivated individuals who enjoy working in Stryvo. Staff are motivated by the challenges of their assigned tasks, recognition of excellence, regular training and a good working environment.
Management protects and maintains our non-political, open and honest culture and acts with integrity.
Consequently, Stryvo, in all its forms when viewed by clients, staff, feeders, suppliers or shareholders, will continue to exceed expectations.